STEP 1:
We work with you to determine what is important to you and your goals for the future.
We emphasize creating a strong personal relationship between the Advisor and the Client so the Client can have effective, unbiased financial guidance from a trusted source. Furthermore, we pull in numerous sources to help you, including attorneys and tax consultants.
STEP 2:
We build a highly personalized strategy based on your specific goals and put your plan in action.
We work closely with you to build a custom portfolio, analyze your income needs and cash flow, as well as review your employer sponsored retirement accounts. We then put our recommendations in to action according to your financial plan to help you achieve your financial goals.
STEP 3:
We continuously monitor, build, and improve your financial plan through ongoing meetings.
As major life events occur, we are here to work with you every step of the way. Through regular meetings, we ensure you stay on track financially by periodically rebalancing your portfolio, adjusting your financial goals, and reviewing different your tax and estate scenarios.
TAX AND INSURANCE PLANNING
INVESTMENT ADVISORY SERVICE
PERSONAL FINANCIAL PLANNING
CUSTODY AND TRUST SERVICE
Stay Connected from any device.
All Clients receive access to our mobile app – available from any device – to keep track of all of your accounts in one place. From the platform, you can access exclusive educational content, Morningstar Reports, as well as budgeting and performance tools.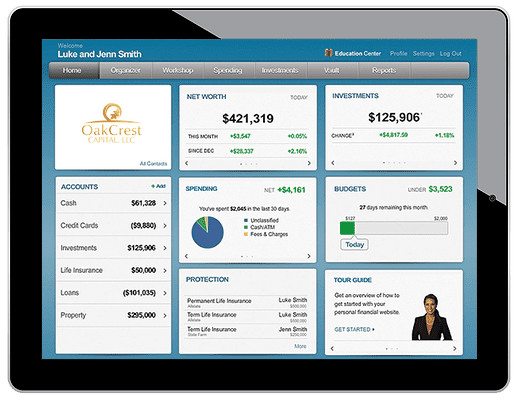 We serve a wide variety of professionals and have deep expertise in these areas: